How do I view and reply to a message I received?
Check for unread messages on your Home screen.
You are able to view and reply to any message received from the parents you are connected to straight from the app. To do so, start by logging into your OFW app for iPhone or iPad.
On your home page, you'll see how many unread messages you have. The number of unread messages in your inbox is shown to you in red within the blue circle over an envelope in the row for Unread Messages.
To access your unread messages, click that icon or select Messages in the left navigation.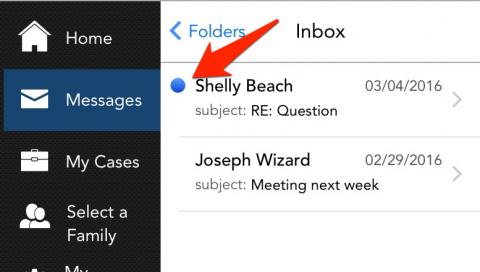 Check your inbox & reply.
In Messages, you will see your list of folders. To see messages sent to you from clients, select "Inbox". 
New, unread messages in your Inbox will be marked with a blue dot. Tap the message to open and view it. If you wish to respond, tap the arrow icon at the top-right corner of the screen.